Common Things to Look Out for Before Buying Your Dream Home
Posted by Jeff Clifford on Tuesday, August 11, 2020 at 12:30 PM
By Jeff Clifford / August 11, 2020
Comment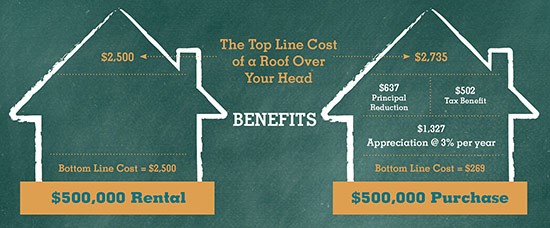 There's more to comparing the costs of renting and owning than the dollar cost of payments. Even with numbers like these, some still say renting is better:
"Investing in a home is riskier than renting."
No risk, no reward. Besides, even studies conducted by the Federal Reserve show that owning can provide a net worth that is from several to hundreds of times higher than that of renters.
"Home values have dropped in recent years."
Which is one reason why ownership may now be less expensive than renting. As well, recent price trends in many areas have reversed, and values are once again on the rise.
"The tax deductions aren't worth it."
Some people benefit from claiming deductions for mortgage interest and real estate taxes. Others find a standard deduction more valuable. Even if you exclude the tax benefit, the real cost of owning can still be less than renting.
Equity for you or equity for your landlord?
With more or less equal payments, owning will always have an advantage in that you're paying down principal and earning equity in your own home rather than the landlord's.